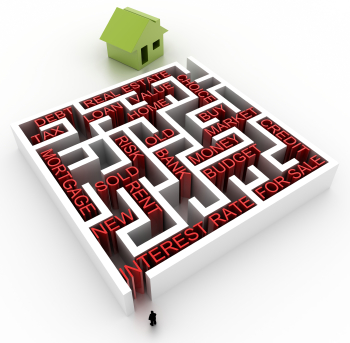 If you're thinking about buying a home and getting your first home mortgage, these five steps can help ensure you get the right house for your situation and the affordable financing that helps make homeownership a long-term success:
Step 1. Educate Yourself
Before you hire an agent or find a mortgage lender, learn about the loan process and key factors that make a loan affordable. You'll need to ask yourself, "What are my mortgage options?" You'll need to know about fixed-rate mortgages, adjustable-rate mortgages, FHA and VA loans – and the full range of line items that contribute to the total cost of securing the loan, including discount points, appraisals, and real estate agent commissions.
Step 2. Get Your Finances in Order
First, get a copy of your credit report, which usually includes your credit score. If your credit score is low (anything below 620), take the time to improve it. This may put your home buying plans on hold (creditors typically look for a two-year history of consistent, on-time bill payment to establish good credit), but it could result in a better loan and a more affordable rate.
Step 3. Establish a Budget
For a general idea of your home buying power, work with a lender to get prequalified, or use a mortgage loan calculator to enter the purchase price of your new home, the down payment, the loan interest rate and term. You'll see your monthly payment, how your equity grows, even the impact of making one-time or regular prepayments of principal. Lenders will evaluate all your debts and take into account your full financial situation when qualifying you for a mortgage. A key factor is how much income you bring in versus how much you will pay out each month. Here's a good guideline to check where you are:
Your housing expense (the mortgage payments on the house you are buying) should generally not exceed 28 percent to 33 percent of your total monthly gross income.
All revolving debt (including car payments, credit cards payments, and your mortgage payment) should not exceed 40 percent to 45 percent of your total monthly gross income.
If you can pay all your debts and continue to add to your savings, you may be ready to buy a home. If not, you may have to revise your plans.
Step 4. Start Saving
Determine how much of your savings plus any monetary gifts you will have to help with the down payment and the closing costs. Having savings in reserve helps ensure you can afford the upfront costs of homeownership. Upfront costs include:
Your home loan down payment will be 3.5 percent to 20 percent of the purchase price*. Keep in mind, a lower down payment means you'll have to qualify for a higher loan amount and pay for mortgage insurance – adding to your monthly mortgage payment.
Your deposit will be 1 percent of the purchase price, typically. Sometimes called earnest money, a deposit shows the seller you're serious about buying the home. If your offer is accepted, the deposit or earnest money will be applied towards the down payment. If your offer is rejected, the down payment will be returned to you.
The closing costs and escrow items will be 3 percent to 7 percent of the purchase price, on average. These costs include all fees required to execute the sale, including attorney fees, title insurance, appraisals, and points as well as escrow items to pay for property taxes and homeowner's insurance.But there are loan programs that exist for first-time homebuyers as well as veterans that allow for no down payment.
Step 5. Get Prequalified
In today's competitive market, homebuyers should get an offline or online home loan pre-qualification for a mortgage before they begin their house hunt. To get home loan prequalified, your lender will gather information about your job, assets, income, and debts and then determine how much financing you're qualified to receive. If you are prequalified, you will receive a letter from the lender. When you're ready to make an offer on a home, this letter will tell the seller you're a serious and qualified buyer. It will also give you an edge over competing buyers who are not pre-approved. Keep in mind, prequalification doesn't mean you have an approved loan. You'll still need to complete your loan approval if your offer is accepted.
While getting a competitive mortgage rate is important, the lowest mortgage rate may not always be the best choice for you. You must also consider the entire cost of the loan. Be sure to ask your lender for all costs in detail. Look at all the information on the Good Faith Estimate (in writing), which your lender is required to give you. This written estimate will itemize the approximate costs and fees for the mortgage, including your total monthly payment.
Wishing you and your family happy home ownership!