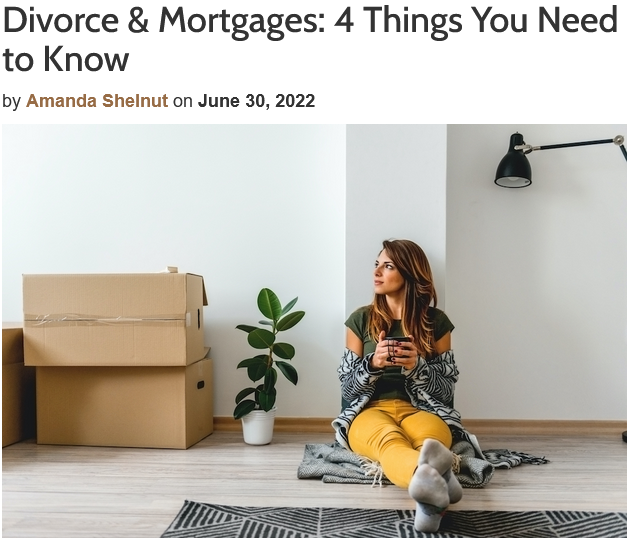 It's no secret divorces can get messy. Splitting the assets of a marriage, particularly your largest financial asset, your home, can be tricky. Here's your guide to handling debts, income lines and mortgages throughout your divorce.
1. Wait to purchase or sell.
If your divorce isn't final and you want to sell your house or purchase a new one, your spouse will still be required to attend the closing to sign the mortgage papers. Whether refinancing or purchasing a new home, it's best to wait until a divorce is final to take financial action on your new or old home.
2. Use qualifying income for financing.
Many lenders accept both alimony and child support checks as valid sources of income. The catch is that you can only count alimony as income if you have a documented history that your ex-spouse has paid it for up to six months and owes at least three more years of alimony payments. Child support payments have similar limitations.

3. Be aware of your credit.
Your good credit score is vital to getting a good mortgage, and if your ex partner refuses to pay bills from joint accounts, it could lower your credit rating. Protect your credit score by working out an agreement with your former partner to pay joint bills on time. If possible, close your joint accounts and set up your own account.
4. Resolve the mortgage debt.
A divorce decree may specify which spouse is responsible for a debt; however, it is best to wait until debts have been refinanced. Otherwise, those debts still have to be counted in your debt-to-income ratio.
Meanwhile, a divorce does not relieve you of mutual debts you share with your partner, particularly your mortgage debt, and you are equally liable for the outstanding balance of debt if you and your ex's name are registered on any other debt or loans, even following the divorce. Resolve mortgage debt by buying out their portion of it through a cash-out refinance loan, which allows you to leverage the equity of your home to increase your loan amount.
Buying a home is one of the greatest decisions you can make, but it can also be one of the most stressful and challenging, especially for those handling a divorce. Don't be afraid to ask for help, especially from professionals that are here to help.
Amanda Shelnut is the branch manager of Bank of Little Rock in Benton. She has worked as a loan officer for more than a decade. She's also a mother of three who enjoys spending time with her family on Lake Ouachita, fishing, reading and cooking. Reach her directly at ashelnut@blrmortgage.com or 501.902.5123.