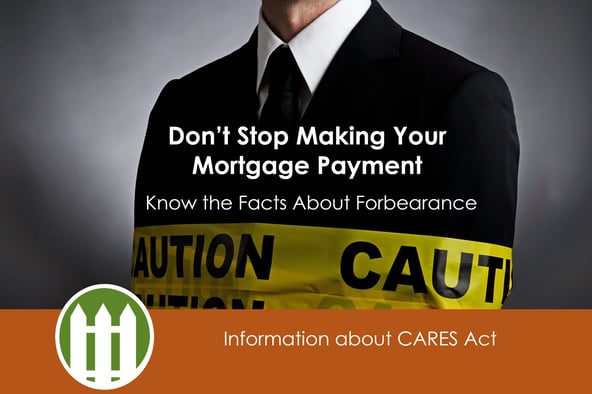 During these unprecedented times you might be concerned about your mortgage. Here is some important information about the CARES Act and mortgage forbearance.
Please use caution and make sure you understand what you will be required to pay and when. AVOID SCAMS. You must work DIRECTLY WITH YOUR MORTGAGE LOAN SERVICER.
What is Forbearance under the CARES Act?
Forbearance IS NOT AUTOMATIC. It is a formal agreement between you and your mortgage loan servicer.
Forbearance IS NOT FORGIVENESS. You will owe all the payments you postpone or the amount by which you decrease your payment during forbearance.
If you are CURRENT AT THE TIME YOU ENTER YOUR FORBEARANCE your mortgage loan will not be reported as delinquent during the forbearance.
You WILL NOT BE ABLE TO REFINANCE your mortgage once you start forbearance.
How will I repay my Forbearance?
Your repayment schedule is up to your mortgage loan servicer.
You may be required to pay all of your delayed payments in the first month the forbearance ends.
You may be allowed to pay the delayed payments over a period of time such as 12 to 24 months. That amount would be added to your mortgage payment.
You may be allowed to modify your loan and tack the payments on the end.
Let's look at an example.
You have 25 years left on a 30 year mortgage and your monthly payment is $1,000. You and your mortgage loan servicer agree to a 180 day forbearance. You make no payment for six months. In month seven you may:
Owe $1,000 for month seven and $6,000 for delayed payments for a total of $7,000.
Owe $1,000 for month seven plus the increase of 500 per month for the next 12 months (6,000 of delayed payments / 12 months.)
Owe $1,000 for month seven with no change in your payment, but your mortgage will now be for 26 years (the six months you didn't pay plus six months at the end to recapture those payments.)
This is not a multiple-choice test. You will have to do what you and your mortgage loan servicer agree to on the front end.
Who is my loan servicer?
Your mortgage loan servicer is the company you make your monthly payment to. You should receive a monthly mortgage statement. All of the servicer's contact information should be included on there. Most mortgage loan servicers are experiencing high call volume right now. You may want to try to contact them online.
What is a Federally Backed Mortgage?
If your loan is an FHA, VA, or USDA Loan, it is a Federally Backed Mortgage.
If you have a Conventional loan that was backed by Fannie Mae or Freddie Mac, it is a Federally Backed Mortgage.
To look up online whether your mortgage is owned or backed by Fannie or Freddie, click these links:
Or you can ask your mortgage loan servicer.
Additional information can be found on the Consumer Finance Protection Bureau site.