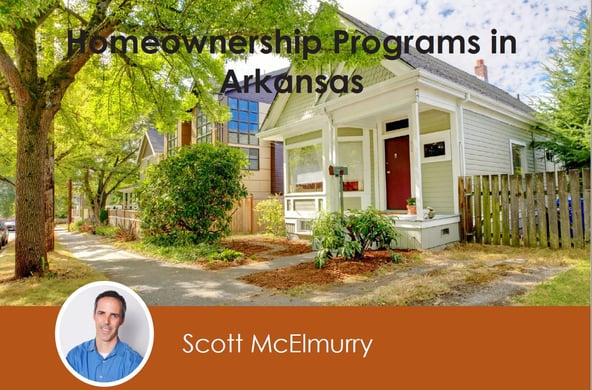 Homeownership Programs for Arkansans
Homeownership is a dream some may feel is out of reach. But the Arkansas Development Finance Authority offers assistance programs to help make that dream a reality for many families in Arkansas. These programs have some restrictions and we are providing some links in this article for more information. Don't worry, you can always contact us and we will be happy to visit with you about any questions you have. So, let's get started!
What are the different programs offered through the ADFA?
The Arkansas Development Finance Authority (ADFA) offers various incentive programs to help Arkansans buy a house. The two categories of programs are the Down Payment Assistance Programs and the Homeownership Programs. All ADFA products are subject to income and property value limitations. Most of the income limits are based on the county where the property is located. Click here for more information on your area.
Down-Payment Assistance Programs
Saving for a down- payment or closing costs can be difficult for most families. ADFA offers two down-payment assistance programs.
ADFA Down-payment Assistance Program (DPA) can provide up to $6,000 for down payment and closing cost assistance. ADFA's Down Payment Assistance (DPA) Loan is a second mortgage that carries the low rate of 4 percent with a 10-year term.
Arkansas Dream Down-payment Initiative (ADDI) provides lower income, first-time homebuyers in Arkansas, who qualify, up to 6% of the purchase price of their home, not to exceed $10,000. It is a second mortgage loan with no monthly payment that is forgivable over five years.
Homeownership Programs
There's the First-Time Homebuyer Federal Tax Credit/Mortgage Credit Certificate. In short, this particular program is a dollar-for-dollar tax credit for first-time low-to-moderate income homebuyers. The certificate is offered by the ADFA and allows qualifying homebuyers to claim a tax credit of up to 50 percent of the mortgage interest paid per year. This program can be used alone or combined with the ADDI, or either of the next two programs we will discuss.
The Move-Up Loan is actually available to both first-time and repeat homebuyers. For those excluded from using other ADFA programs because of income, this loan provides for a more affordable mortgage. Income can be as high as $130,000 for a three person household and the maximum home value is $250,000.
Another new program is the ADFA's Move Up Choice Single Family Loan Program. It's a grant of 4 percent of the loan amount funded by a higher interest rate to cover down payment and closing costs. This program has the same income and property value restrictions as the Move Up.
Have questions or are you ready to get started with these programs?
There are income requirements for these various programs, so we first need to make sure you qualify. Some programs require buyers to attend an education course. Contact one of our lenders in your area and let us see if one of these programs is right for you. Click here to find a BLRM lender.