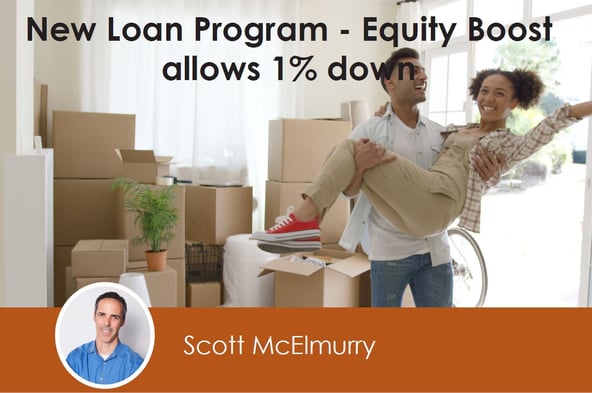 In the past, a 20% down payment was standard for conventional home buyers. Low down payment options were restricted to VA programs, USDA loans, or other government loans. Today there's a new program that could let you purchase a home with just 1% down.
With the average cost of a house in the country approaching $200,000, saving up for a traditional twenty-percent down payment of $40,000 is a difficult and sometimes impossible task. Saving for a down payment was becoming a barrier to homeownership for a lot of people.
By introducing this 1% down program, we're helping borrowers realize the dream of owning a home. Plus, when you just put 1% down you can keep more money in your pocket for emergencies or home repair and maintenance.
This loan is designed for people with a strong credit payment history who want to keep as much money in their wallet as possible when buying a home. And you don't have to be a first-time homebuyer.
Borrowers must have:
Minimum FICO: 700+
Max Debt to Income Ratio: 43%
You may be wondering if buyers are putting so little down do they have to pay other fees? Standard closing cost apply; however, unlike other low down payment programs, this 1% program is a conventional loan that doesn't require a monthly mortgage insurance premium. In fact, you may not even pay private mortgage insurance. As the lender, we can take care of that for you if you choose.
1% Down Program
Limited to single-family residences: home, condo or townhouse.
Not exclusive to first time homebuyers.
Borrower may not own any other residential property.
Applicable to 30 year fixed rate mortgages only.
Income restrictions may apply in some geographic areas.
Interested? Click here to find a lender in your area.