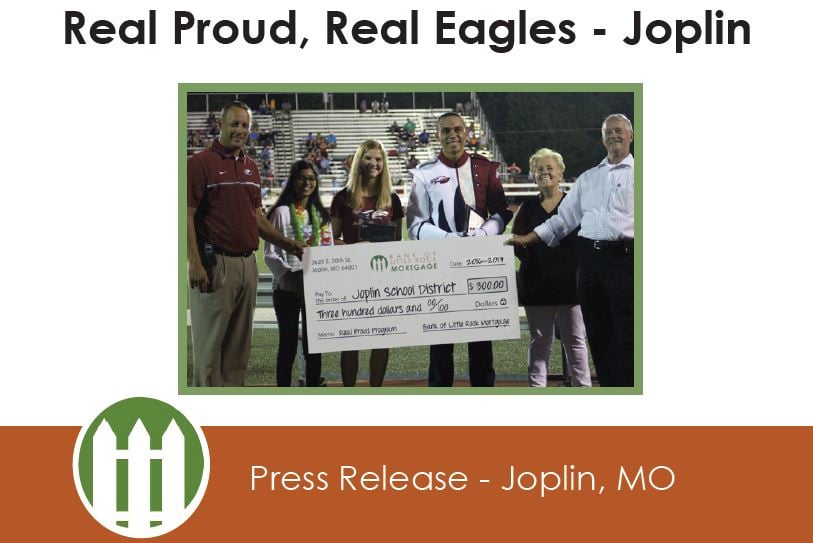 PHOTO CAPTION: From left, Brandon Eggleston, Principal, Farhath Sulthana, Sarah Peterson and Othellis Roper accept Real Proud of Real Eagles honor from the Bank of Little Rock Mortgage's Annette and Bob Goodall.

Real Proud Recognizes Three Joplin High Students
Bank of Little Rock Mortgage recognized three Joplin High School students on Friday, August 19, during the Eagles football game.
The students were honored as a part of the Real Proud of Real Eagles program, sponsored by Bank of Little Rock Mortgage. The program recognizes hard-working students who are actively involved in their community and extracurricular activities. The students honored were Farhath Sulthana, Othellis Roper and Sarah Peterson, all seniors at Joplin High School.
Farhath Sulthana is a member of 8 school clubs, won second overall at the science fair and was able to attend the international science fair last May in Phoenix, Arizona. Sulthana volunteers at Freeman Hospital where she has received two scholarships. She plans to attend the University of Missouri at Kansas City in the 6-year medical program. Her proud parents are father Shaik Ahmed and mother Nushrata Begum.
Othellis Roper is Cadet junior ROTC battalion commander, selected to attend the junior ROTC's summer camp), and while there, selected as best in the platoon while his platoon won the overall platoon competition. He was elected to serve as the camp Command Sergeant Major, the highest enlisted position, and he's attended Boys State and West Point's summer leadership experience for promising young leaders. He plans to attend the United States Military Academy at West Point and study history. Othellis is the son of proud parents Stephanie Roper and Otis Roper.
Sarah Peterson is editor for Spyglass Magazine, a member of four clubs, and her accomplishments include National Merit Semi Finalist, Math League top individual, AP Scholar with honors, Missouri Scholars Academy and a Girls State Alumni. She volunteers at St. Peter's Outreach House, and she plans to attend the University of Missouri and study journalism. Sarah's proud parents are Chris & Annette Peterson.
During the presentation, Bob and Annette Goodall, with Bank of Little Rock Mortgage, presented each student with an award plaque. They also presented Joplin High School with a check for $300 in the names of each student. During this school year, Bank of Little Rock Mortgage will contribute $100 for each student honored, culminating in $1,200 this year.