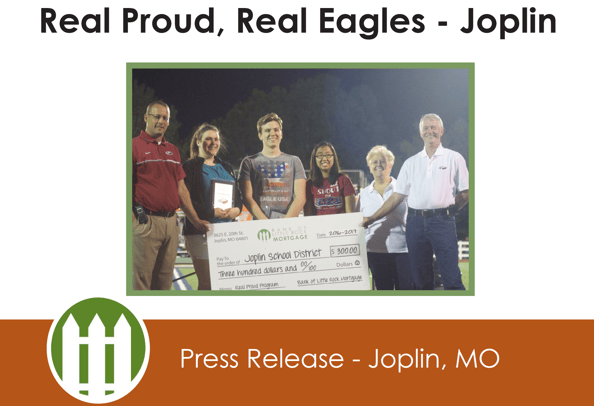 Real Proud Recognizes Three Joplin High Students
Bank of Little Rock Mortgage recognized three Joplin High School students on Friday, Sept. 2, during the Eagles football game.
The students were honored as a part of the Real Proud of Real Eagles program, sponsored by Bank of Little Rock Mortgage. The program recognizes hard-working students who are actively involved in their community and extracurricular activities. The students honored were Zoe Musick, Annie Le and Andrew Chesney, all seniors at Joplin High School.
Zoe Musick was chosen to represent Joplin School and Joplin Choirs at the Missouri All-State Show Choir this summer and is a member of International Thespian Society, National Honor Society and Show Choir. Last year, she competed in International Theatre Fest, All-State Music Festival and All-State Show Choir. Zoe won the top score individual award at State Theatre competition, and she is a volunteer with the Community Theater. She plans to attend Northwest Missouri where she will study to become a theater teacher. Her proud parents are Doug and Kelly Musick.
Annie Le is an officer for Key Club, National Honor Society and the Foreign Language Club. She also is the online editor for Spyglass Magazine, National Honor Society and Interact. Annie plans to attend Missouri State or the University of Missouri and pursue public relations. Annie is the daughter of proud parents Danny Lee and Ngoan Tran.
Andrew Chesney is on the swim team and a member of Math League, Show Choir, International Thespian Society and National Honor Society. He is a three-time state qualifier in swimming and 17th in the state in 500 freestyle. Andrew is an alumnus of Boy's State and was selected to travel to Japan for the 2016 International High School Student Forum. He plans to attend Missouri S & T to study chemistry and focus on pre-med. Andrew is the son of proud parents John and Marcia Chesney.
During the presentation, Bob and Annette Goodall, with Bank of Little Rock Mortgage, presented each student with an award plaque. They also presented Joplin High School with a check for $300 in the names of each student. During this school year, Bank of Little Rock Mortgage will contribute $100 for each student honored, culminating in $1,200 this year.