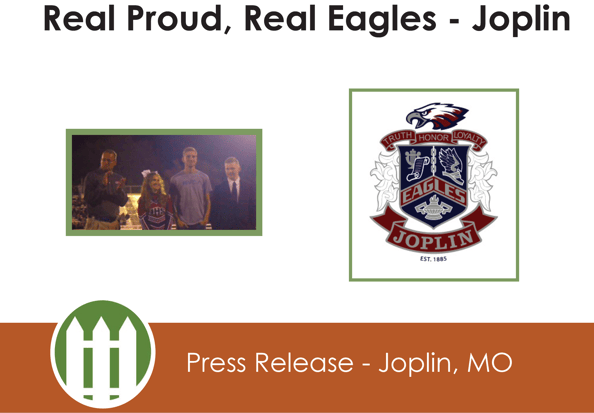 Photo: (L to R): Brandon Eggleston (Joplin Principal), Ashtyn Turner, Zac Nay, and Ethan Brown.
Real Proud Recognizes Three Joplin High Students
Bank of Little Rock Mortgage recognized three Joplin High School students on Friday, Sept. 30, during the Eagles football game.
The students were honored as a part of the Real Proud of Real Eagles program, sponsored by Bank of Little Rock Mortgage. The program recognizes hard-working students who are actively involved in their community and extracurricular activities. The students honored were seniors Ashtyn Turner, Zac Nay and Ethan Brown, at Joplin High School.
Ashtyn Turner, a Joplin High School Senior, was nominated by Chery Warstler. She is an officer of the National Honor Society and Tri-M, a Fusion intern and a member of STUCO, A+ Program, Varsity Cheer and Sound Dimension Show Choir. In fact, she has placed in the state for the last three years in show choir and is a five-time district choir member. Ashtyn also is a five-time All-American nominee for cheerleading and volunteers at Irving Elementary. She plans to attend Missouri Southern State University to study speech pathology. She is the daughter of proud parents Mike and Leslie Turner.
Zac Nay, also a senior at Joplin High School, is a member of FBLA, DECA, FUSION and FCA, and he has attended Ryla Leadership Academy. He studies contemporary math, humanities and English, and he plans to attend the University of Central Missouri where he'll major in accounting and minor in political science. Zac plans to then earn a law degree and become a corporate attorney. He is the son of proud parents Barbi Nay and Melvin Nay.
Ethan Brown is a senior at Joplin High School and he is a member of the Key Club, FBLA, STUCO, DECA, National Honor Society, National English Honor Society, Foreign Language Club and National Art Honor Society. He recently attended Boys State where he participated in City of the Week. Ethan volunteers for Young Life, and plans to attend New York University to study hospitality management, urban planning and social entrepreneurship. He is the son of proud parents Joe and Kathy Brown.
During the presentation, Bob and Annette Goodall, with Bank of Little Rock Mortgage, presented each student with an award plaque. They also presented Joplin High School with a check for $300 in the names of each student. During this school year, Bank of Little Rock Mortgage will contribute $100 for each student honored, culminating in $1,200 this year.