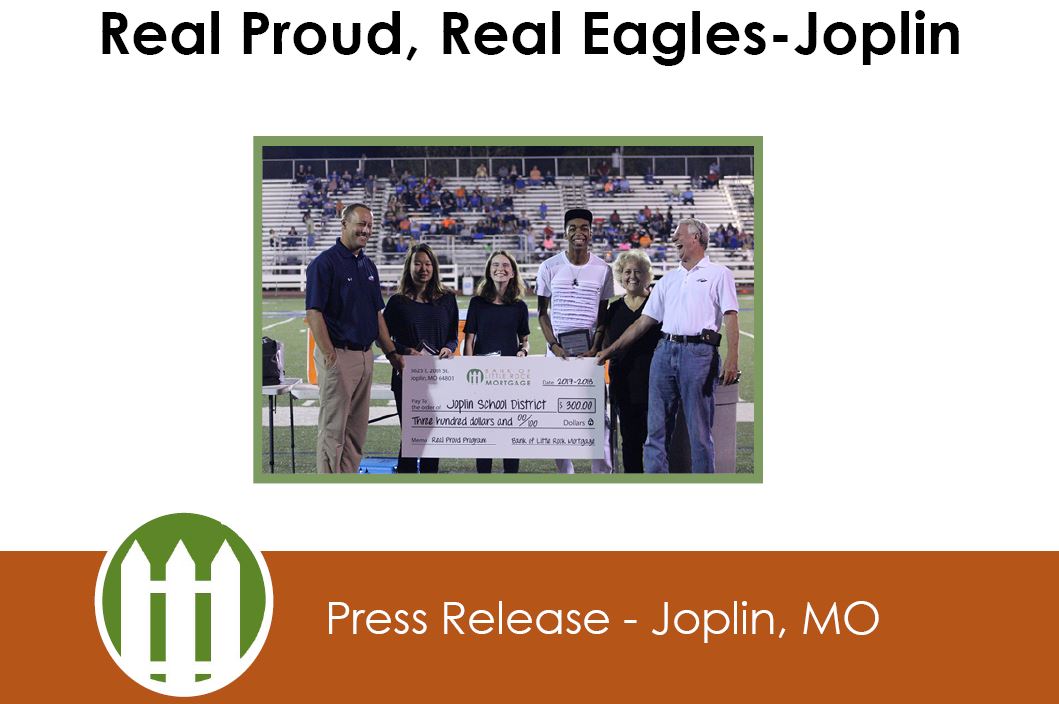 Photo Caption (from left to right): (10/13/17 Photo) Principal Dr. Brandon Eggleston, Yourong Tang, Carly Short, Dionte Franklin, Annette and Bob Goodall (Bank of Little Rock Mortgage-Joplin)
Real Proud recognizes 3 Joplin High Students
Three Joplin High School students were recognized by Bank of Little Rock Mortgage on Friday, October 13th, during Joplin's varsity football game against Hillcrest. The students were honored as a part of the Real Proud of Real Eagles program, sponsored by Bank of Little Rock Mortgage.
The program recognizes hard-working students who are actively involved in their community and extracurricular activities. The students honored were seniors Dionte Franklin, Carly Short and Yourong Tang.
Dionte Franklin is a member of JROTC and a Boys State alumni. He volunteers at Wild Glades Park, cooks for the Ronald McDonald House, mows the lawn for his church's summer camp and participates in numerous food drives. After graduation Dionte plans to attend Louisiana State University and pursue a degree in Computer Engineering. Dionte is the son of proud parents LaMonte Trevillion and Mark Franklin.
Carly Short is involved in the Foreign Language Club, National Honor Society, SkillsUSA and Physics Club. She is working toward her associate degree from Crowder College concurrently while attending Joplin High School. She is active in Girls Scouts of the Missouri Heartland and volunteers at Friends of Camp Mintahana, Cooking for a Cause and the Joplin Humane Society. After graduation Carly plans to attend Wichita State University to obtain a degree in biological engineering. Carly is the daughter of proud parents Steve and Cristy Short.
Yourong Tang is the Key Club president, National Honor English Society Treasurer, National Honor Society Community Chair and a member of Student Council, Math League, and Tri-M. Yourong also does volunteer work for Key Club and at Freeman Hospital in general surgery. Her future plans are to attend the University of Missouri and pursue a degree in biochemistry. Yourong is the daughter of proud parents Wen Zhong Tang and Hong Li.
Bob and Annette Goodall with the Joplin branch of the Bank of Little Rock Mortgage presented the $300 contribution in the names of these students.