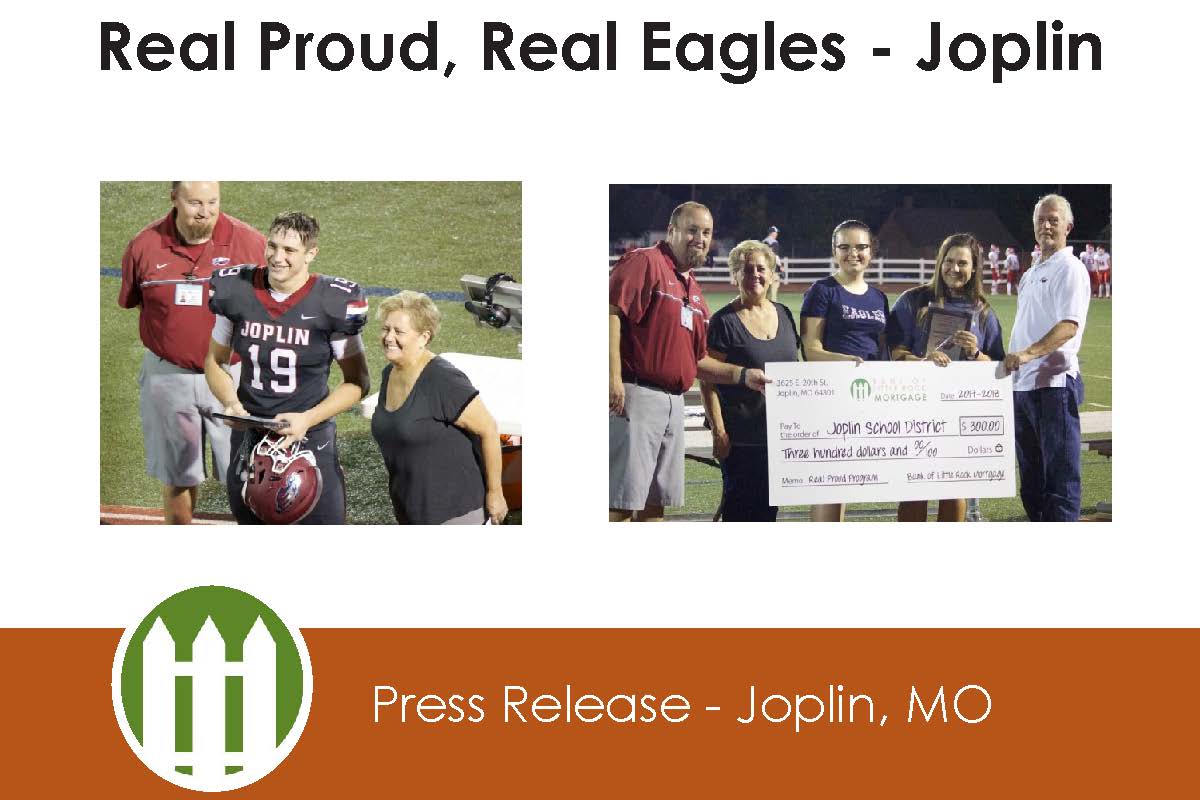 Photo Caption (10/5/2018) Photo 1( left to right) Matt Hiatt - Joplin Athletic Director, Luke Kuehnel and Annette Goodall. Photo 2(Left to Right) Matt Hiatt along with Annette Goodall, students Megan Peterson, Quinn Smith and Bob Goodall. Bob and Annette Goodall represented the Joplin Branch of Bank of Little Rock Mortgage. Not Pictured Asia Huffman

Real Proud recognizes 4 Joplin High Students
Four Joplin High School students were recognized by Bank of Little Rock Mortgage on Friday, October 5th during Joplin High's football game. The students were honored as a part of the Real Proud of Real Eagles program, sponsored by Bank of Little Rock Mortgage.
The program recognizes students for their achievements in and out of the classroom. The students honored were Asia Huffman, Quinn Smith, Luke Kuehnel and Megan Peterson.
Asia Huffman always puts full effort into all of her work and consistently comes to class
with a great attitude. Asia is a dedicated student who has a pleasant attitude and enthusiasm to do well. Asia always takes the time to make sure she has answered questions and completed assignments to the best of her ability.
Quinn Smith is trustworthy, responsible, and organized. She follows through with what
she says and sticks to her beliefs in the midst of peer pressure. She is a vibrant young lady
who is quick to volunteer, responsible, intelligent, and empathetic. She is in the National English Honor Society and is a co-founders of Young Republicans. She helps to organize each meeting of the club and makes sure that all members of the club have the freedom to discuss local, state, and federal topics in a safe environment.
Luke Kuehnel is a scholar student athlete. He is near the top of his class academically,
as well as being a three sport athlete in football, wrestling and baseball. Luke is a leader on and off the field. He is a man of character and not only holds his teammates accountable, but also practices what he preaches by holding himself accountable.
Megan Peterson is very active and involved student and constantly strives to be a better
student, leader, and person. She's in speech and debate and qualified for nationals last summer for the second time in her high school career .
Bob and Annette Goodall from Bank of Little Rock Mortgage presented the school with a
$300 contribution which is part of the $1,500 Bank of Little Rock Mortgage will donate to the Joplin High School this year.