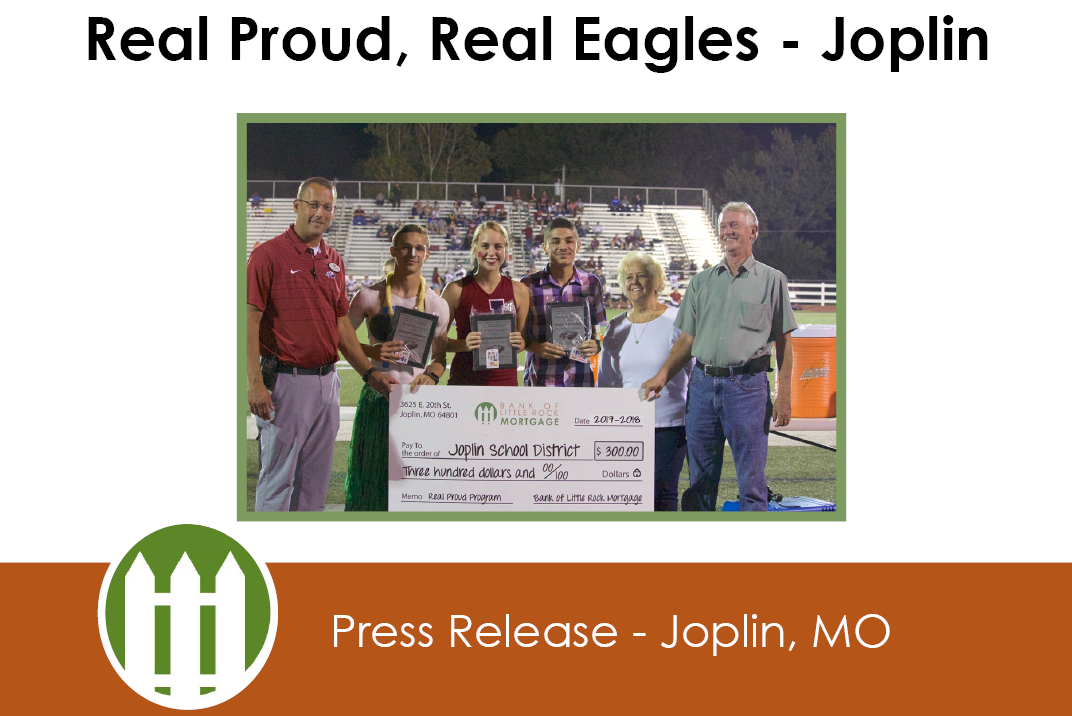 Photo Caption (from left to right): (9/8/17 Photo) Joplin High School Principal , Dr. Brandon Eggleston, Students Jacob Yarnell, Lauren Fogarty, Michael Rivera and Bank of Little Rock Mortgage representatives, Bob and Annette Goodall

Real Proud recognizes 3 Joplin High Students
Three Joplin High School students were recently recognized by Bank of Little Rock Mortgage on Friday, September 8th. during Joplin's varsity football game. The students were honored as a part of the Real Proud of Real Eagles program, sponsored by Bank of Little Rock Mortgage. The program recognizes hard-working students who are actively involved in their community and extracurricular activities. The students honored were Lauren Fogarty, Michael Rivera and Jacob Yarnall.
Lauren Fogarty is a member of the Joplin High School Orchestra, Dance Team, President of FBLA, President of NEHS, Vice President of NHS, and a member of Peer Buddies. She received "first place" in Business Communications at FBLA State competition, and a scholarship from Freeman for her volunteer work. She plans to attend either the University of Missouri, St. Louis University, or Loyola in Chicago. Lauren plans to major in Psychology and pursue her Doctorate in Medicine. Her proud parents are Rob and Cheryl Fogarty.
Michael Rivera is a member of ITS, Joplin High School Orchestra, Jet HD, and the Innovation Campus Program. He recently received his basic IT certification. Michael also acted in the Joplin High presentation of a "Diary of Anne Frank" and "Charlotte's Web" with the Stained Glass Theatre. Michael plans to attend Missouri Southern State University and major in Theatre and Mass Communications. Michael is the son of proud parents Jose and Esperanza Rivera.
Jacob Yarnall is a member of FFA and the JHS Baseball Team. He is a 3-year baseball letterman, 2-year starter, and 2-year football letterman. He has also been a 3 time Academic All-Conference, and All Conference Honoree in Baseball. Jacob is on track to graduate with his Associates Degree from Crowder College. His future college choice is undecided at this time, but he does plan on majoring in Biology and Psychology. His long term goal is to become a medical doctor. Jacob is the son of proud parents Jeff and Michelle Yarnall.
Bob and Annette Goodall with the Joplin branch of the Bank of Little Rock Mortgage presented the $300 contribution in the names of these students.