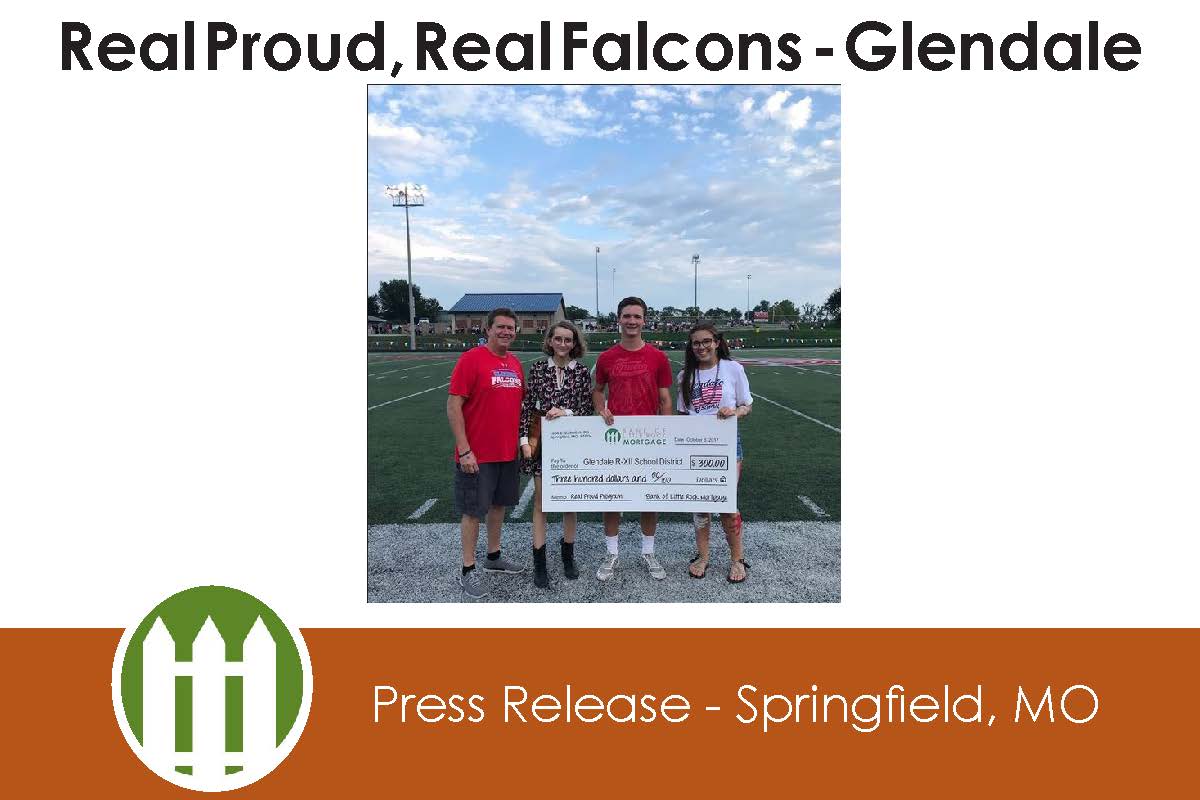 Photo Caption (from left to right): (8/24/2018Photo) Jeff Widmeyer representing Bank of Little Rock Mortgage, Students Lillian Taylor,

Ty Wilmsmeyer and Paige Harris.

Real Proud Recognizes Three Glendale High Students

Three Glendale High School students were recognized by Bank of Little Rock Mortgage on Friday, August 24th during Glendale's football game. The students were honored as a part of the Real Proud of Real Falcons program, sponsored by Bank of Little Rock Mortgage.

The program recognizes students for their achievements in and out of the classroom. The students honored were Lillian Taylor, Ty Wilmsmeyer and Paige Harris.

Lillian (Lilly) Taylor received the Real Proud Award for Fine Arts. Lillian had a very successful art show last May that featured her hard work. Her work has also been exhibited in Hammons Hall of Performing Arts, Springfield Greene County Library and Springfield Art Museum. Her teachers say always been good at personalizing her learning by creating projects that are meaningful to her. Lily often pushes the boundaries while expressing her identity at the same time and exceeds her art teachers' expectations without compromising the quality. More importantly, she is always respectful to her classmates and teachers which makes her a good role model for the current and future falcons.

Ty Wilmsmeyer received the Real Proud Award for Citizenship. Ty is described as a great ambassador of the Glendale community. In addition to excelling academically, Ty is involved in several school programs. As a varsity baseball player, he is a team leader and positive role model for Glendale's younger athletes and students. Ty is involved in the Student Athletic Council, a group of student-athletes who work to promote the positive experiences and image of high school athletes. He participates in DECA and Fellowship of Christian Athletes. Outside of school, Ty volunteers at Convoy of Hope and Help Give Hope charities.

Paige Harris received the Real Proud Award for Community Service. As the Director of Community Service for Glendale DECA, Paige has made a commitment to encouraging other students to increase community service hours and to make decisions for the good of the Springfield area. Currently she is planning, organizing and leading meetings to select specific community service projects for this school year and is also forming a committee for the Loan-a-Dress program at Glendale. Her teachers say her efforts in the area of community service makes her a student that represents Glendale.


Jeff Widmeyer from Bank of Little Rock Mortgage presented the school with a $300 contribution which is part of the $1,500 Bank of Little Rock Mortgage will donate to the Glendale High School this year.