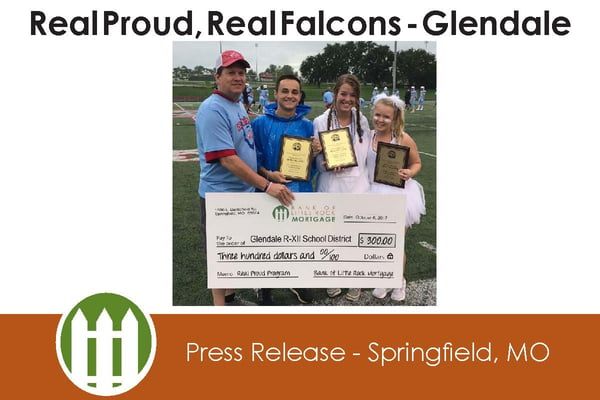 Photo Caption (from left to right): (9/7/2018Photo) Jeff Widmeyer representing Bank of Little Rock Mortgage, Students Max Elmer,
Abby Hirsch and Halle Robbins

Real Proud Recognizes Three Glendale High Students
Three Glendale High School students were recognized by Bank of Little Rock Mortgage on Friday, September 7th during Glendale's football game. The students were honored as a part of the Real Proud of Real Falcons program, sponsored by Bank of Little Rock Mortgage.
The program recognizes students for their achievements in and out of the classroom. The students honored were Max Elmer, Abbey Hirsch and Halle Robbins.
Max Elmer was selected as the Real Proud award in the area of Leadership. Max is a well-rounded student both academically and socially. He cares deeply about his grades as well as people and relationships. He is honest, kind and compassionate. He is respected by his teachers and peers. He serves as the President of the Glendale DECA organization and the Finance Commissioner for Cabinet. He represents Glendale and herself professionally. He is a genuine example of how a high school student and Springfield citizen should conduct themselves.
Abbey Hirsch was selected as the Real Proud award in the area of Business and Entrepreneurship. Abbey is a student that the Glendale community, her teachers and advisors, and family and friends are very proud of. She is one of the most involved students in activities and events outside of school time. As the manager of the Glendale school store, The Nest, and this year's Secretary on Cabinet, she has made a commitment to encouraging the collaboration between Cabinet, The Nest, The Flock and athletics. This collaboration has continued to increase school spirit while also providing student employees an opportunity to gain valuable work experience. She uses her business savvy leadership and entrepreneurial attitude to operate a school store that not only makes money but supports the school spirit and student learning. She is a student that represents Glendale and SPS with the entrepreneurial spirit in all her endeavors.
Halle Robbins was selected as the Real Proud award in the area of Community Service. Halle has made a name for herself as a leader among her peers in areas of community and social justice. She has a mature understanding of the potential strong voice teenagers can have within a community. She is very socially aware and understands social and political issues that affect the larger national landscape. She is a young woman of action. She has organized drives and promoted good causes tirelessly, never falling behind in her work or other responsibilities. She is a positive influence whose efforts are notably selfless. Halle is also a unifier. Although she doesn't shy away from making known her stance on issues, she continues to find common ground among varying groups and ideas.
Jeff Widmeyer from Bank of Little Rock Mortgage presented the school with a $300 contribution which is part of the $1,500 Bank of Little Rock Mortgage will donate to the Glendale High School this year.