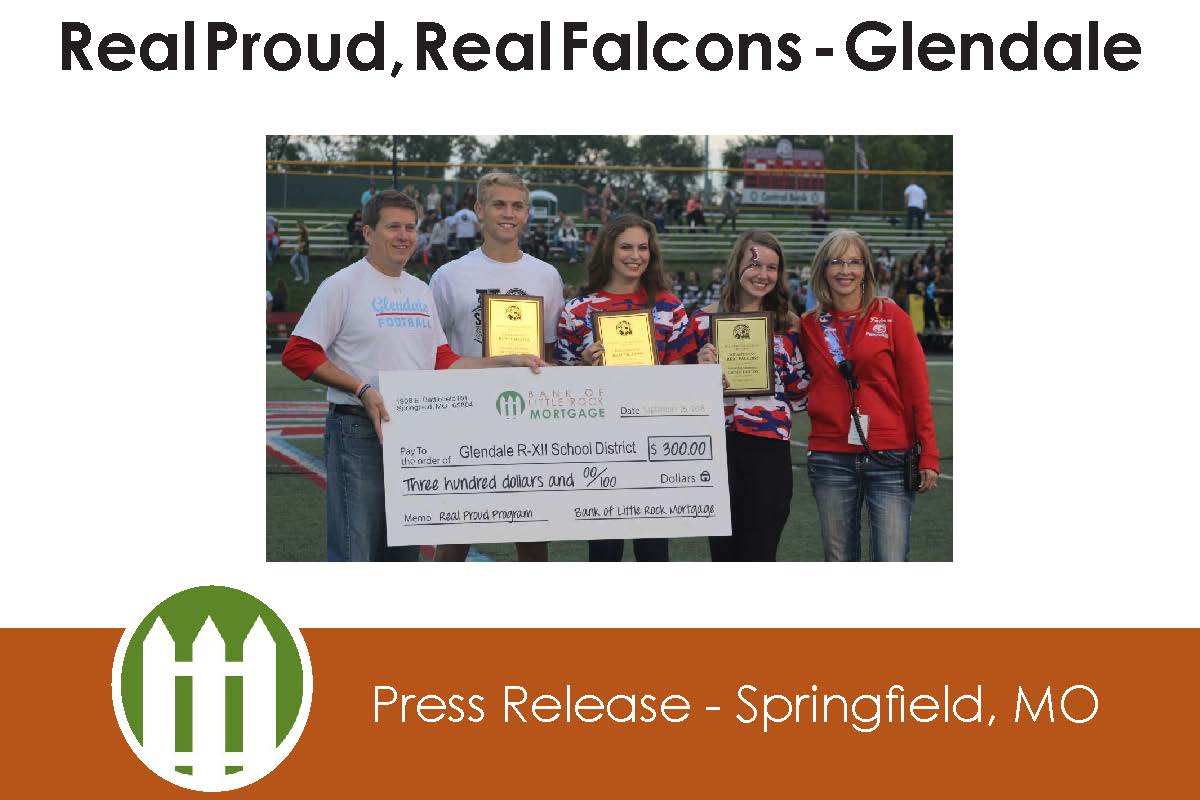 Photo Caption (from left to right): (9/28/2018) Jeff Widmeyer representing Bank of Little Rock Mortgage, Students Mitch Stephens, Morgan Schafer, Lauren Horton and Dr. Natalie Cauldwell, Glendale Principal
Real Proud Recognizes Three Glendale High Students
Three Glendale High School students were recognized by Bank of Little Rock Mortgage on Friday, September 28th during Glendale's football game. The students were honored as a part of the Real Proud of Real Falcons program, sponsored by Bank of Little Rock Mortgage.
The program recognizes students for their achievements in and out of the classroom. The students honored were Mitch Stephens, Morgan Schafer and Lauren Horton.
Mitch Stephens was selected for Leadership. Mitch has been a captain of the soccer team for the last two years. He has the respect of his peers and is a positive servant leader. He is the very definition of a student athlete and is respected by not only his teachers, coaches but by opposing coaches and teams as well. He definitely leads by example. Mitch is also a senior representative of the Student Athletic Council. He is actively involved in the Council and plays a major role in this year's partnership with Harmony House. Mitch has excelled in the classroom as well and will be graduating early to attend Grand Canyon University this spring on a soccer scholarship.
Morgan Schafer was nominated for school Involvement. Morgan is highly active at Glendale High School. She is a hard-working, dedicated student who gives all of herself to everything she does. She is active in the Theatre Department and has been in five theater productions. Morgan Schafer is the Public Relations manager for The Glendale 411, Glendale's online news show. Morgan has been a member of the Girls' Swim Team for four years. Other areas in which Morgan is involved are Peer Mediation, Latin Club, National Honor Society, Girls' Service Society, Student Athletic Council, and World Language Club. Morgan's involvement at Glendale High School made her a superb selection for the Real Proud Award.
Lauren Horton is an amazing student and person. She is kind, generous, a hard worker, and a dedicated student. She is also one of the most involved students in Glendale activities and events outside of school time. As the Social Media Manager for Yearbook and the Director of Social Media for DECA, she stays actively involved in every aspect of GHS. She is a Flock leader and works in the school store. She is a planner, master organizer and leads her peers with integrity. Her efforts encourage the participation of students, athletes, parents and people in the Glendale community in many spirit related activities. She is a student that represents Glendale and SPS with spirit in all her endeavors.
Jeff Widmeyer from Bank of Little Rock Mortgage presented the school with a $300 contribution which is part of the $1,500 Bank of Little Rock Mortgage will donate to the Glendale High School this year.