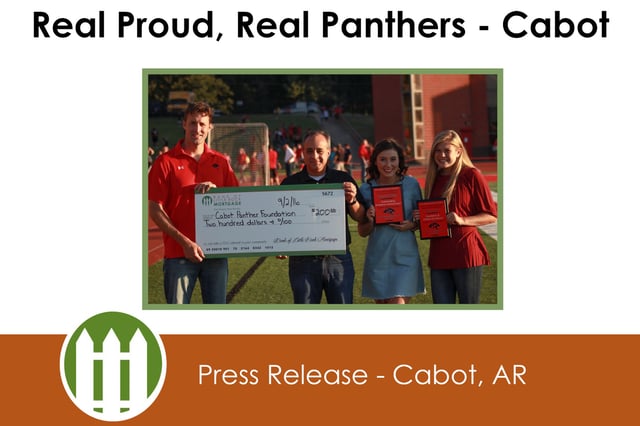 Photo Caption: (L to R) Chad Young, Vice President of the Cabot Panther Foundation; Steve Jackson, BLRM; Kelsey Drees, & Joey Long.
Real Proud Recognizes Two Cabot High Students
Bank of Little Rock Mortgage recognized two Cabot High School students on Friday, September 2, during Cabot's varsity football game against Pine Bluff.
The students were honored as a part of the Real Proud of Real Panthers program, sponsored by Bank of Little Rock Mortgage. The program recognizes hard-working students who are actively involved in their community and extracurricular activities. The students honored were Cabot High School seniors Joey Long and Kelsey Drees.
Joey Long, the daughter of Christopher and Christina Long, was nominated by Dwight Daugherty. Joey is a member of the varsity soccer team, on which she has been captain for two years; as well as a member of National Honor Society and Spanish Honor Society. She is on the leadership team for Mount Carmel Students and provides community service through soccer. She plans to attend Mississippi College where she will major in pre-med.
Kelsey Drees, the daughter of Doug and Tonya Drees, was nominated by Ashley Tarvin. Kelsey is a student leader who participates in theater, theater dance, Crown Club, the International Thespian Society, Spanish Honor Society and National Honor Society. She has been recognized with the academic achievement award, All-American, and Go Pro Scholarship and Choreography Award from Talent on Parade, among others. She plans to attend the University of Central Arkansas where she will major in nursing.
During the presentation, Steve Jackson, manager of the Cabot branch of Bank of Little Rock Mortgage, presented each student with an award plaque. He also presented the Cabot Panther Foundation a check for $200 in the names of each student. During this school year, the Cabot branch of Bank of Little Rock Mortgage will contribute $100 for each student honored, culminating in $1,200 this year, to the Cabot Panther Foundation to help provide scholarships for students in the Cabot school district.