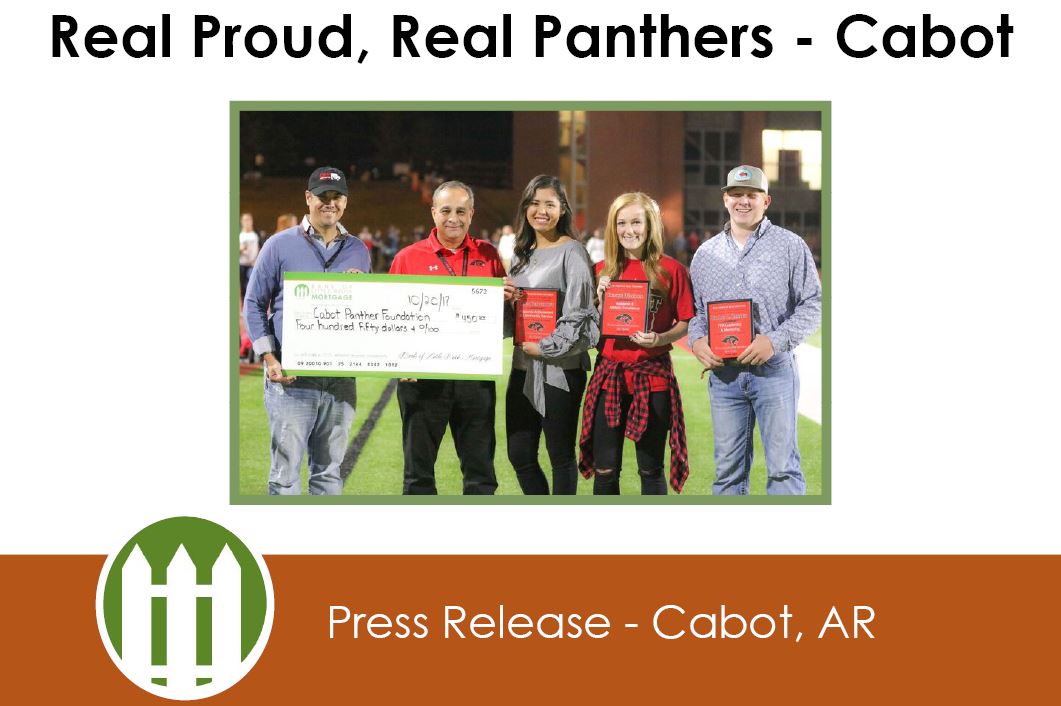 Photo Caption (from left to right): Ken Kincade(Cabot Panther Foundation), Steve Jackson(Bank of Little Rock Mortgage), Erica Pentecost, Kenzie Wagner and Brody L. Barber.

Real Proud Recognizes Three Cabot Students
Three Cabot High School students were recognized by Bank of Little Rock Mortgage on Friday, October 20th, during Cabot's varsity football game against Bryant High School. The students were honored as a part of the Real Proud of Real Panthers program, sponsored by Bank of Little Rock Mortgage.
The program recognizes students for their achievements in and out of the classroom. The students honored were Erica Pentecost, Kezie Wagner and Brody Barber.
Erica Pentecost invests her time helping organize school clubs and participating in community service organizations. She works as a gymnastic coach at the Cabot Gymnastic Academy helping young girls and boys reach their goals as gymnasts and athletes. After high school, Erica plans to attend the University of Arkansas at Fayetteville or Arkansas State University to major in both general business and international business. Her dream is to have multiple boutiques in America and Japan that incorporate both cultures' fashions. Erica is the daughter of proud parents James and Shiqemi Pentecost.
Kenzie Wagner is a three-year letterman for the Cabot girls' basketball team. Her coach described her as someone with impeccable character and who leads by example. She volunteers at Cabot's youth basketball camps and is highly involved in the children's ministry and youth mission trips at her church. After graduation, she plans to attend the University of Central Arkansas and major in nursing. Kenzie is the daughter of proud parents Rodney and Christy Wagner.
Brody Barber is part of the Agriculture internship at Cabot High. He serves as the Future Farmers of America's (FFA) Sentinel, which is the ideal position for him because he is hardworking, dependable and charismatic. Brody also exhibits cattle through FFA and serves as a mentor in the Big Pal program. After high school, Brody would like to pursue a career as a lineman or have a career in agriculture. Brody is the son of proud parents Jon and Jennifer Barber.
Ken Kincade with the Cabot Panther Foundation accepted a $450 contribution contribution from Bank of Little Rock Mortgage Branch Manager Steve Jackson, which is part of the $2,700 Bank of Little Rock Mortgage will donate to the foundation during this school year.