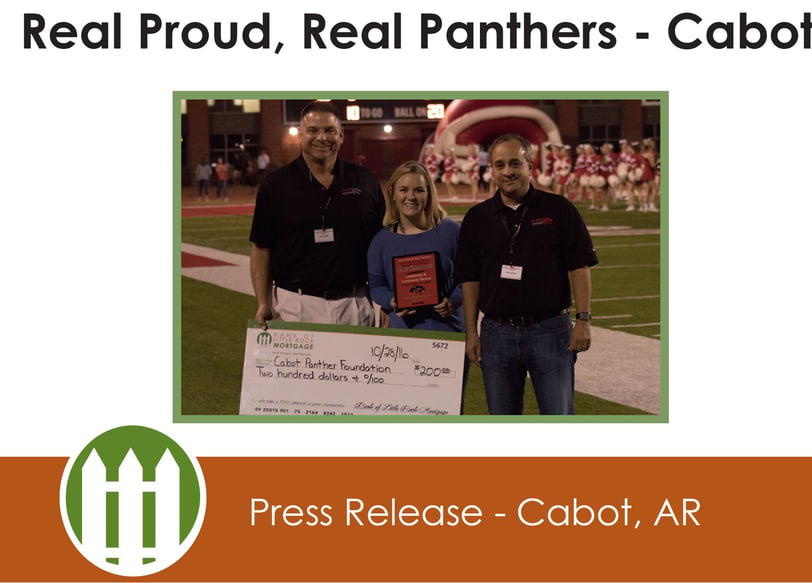 Photo Caption (from left to right): Don Grisham with the CPF, Jaci Simmons & Steve Jackson. Not pictured is Shayna Nelson.
Real Proud Recognizes Two Cabot Students
Two Cabot high school students were recognized on Friday, October 28, during Cabot's varsity football game as a part of the Real Proud of Real Panthers program, sponsored by Bank of Little Rock Mortgage. The program recognizes hard-working students who are actively involved in their community and extracurricular activities. The students honored were Shayna Nelson of ACE North and Jaci Simmons of Cabot High School.
Shayna Nelson is a senior at ACE North and was nominated by Kathy Fleshman and Stephanie York. She is a tutor, past president of Key Club, a top competitor on the Forensics team, and a member of all-region band. She volunteers as a co-director and stage manager for community plays and is a Sunday School teacher for toddlers at her church. Shayna plans to attend ASU Beebe then get a master's degree in education at the University of Central Arkansas. She is the daughter of proud mom Shannon Nelson.
Jaci Simmons, a senior at Cabot High School, was nominated by Stephanie Wade. She is a member of FBLA where she serves as president, an officer in FCCLA, and volunteers at a nursing home where she calls bingo. She also provides Halloween treats for special needs students and creates cards for patients at Arkansas Children's Hospital. Jaci plans to attend college to study psychology or become a teacher. She is the daughter of proud parents Thomas and Megan Young.
During the presentation, Steve Jackson, manager of the Cabot branch of Bank of Little Rock Mortgage, presented each student with an award plaque. He also presented the Cabot Panther Foundation a check for $200 in the names of each student. During this school year, the Cabot branch of Bank of Little Rock Mortgage will contribute $100 for each student honored, culminating in $1,200 this year, to the Cabot Panther Foundation to help provide scholarships for students in the Cabot school district.