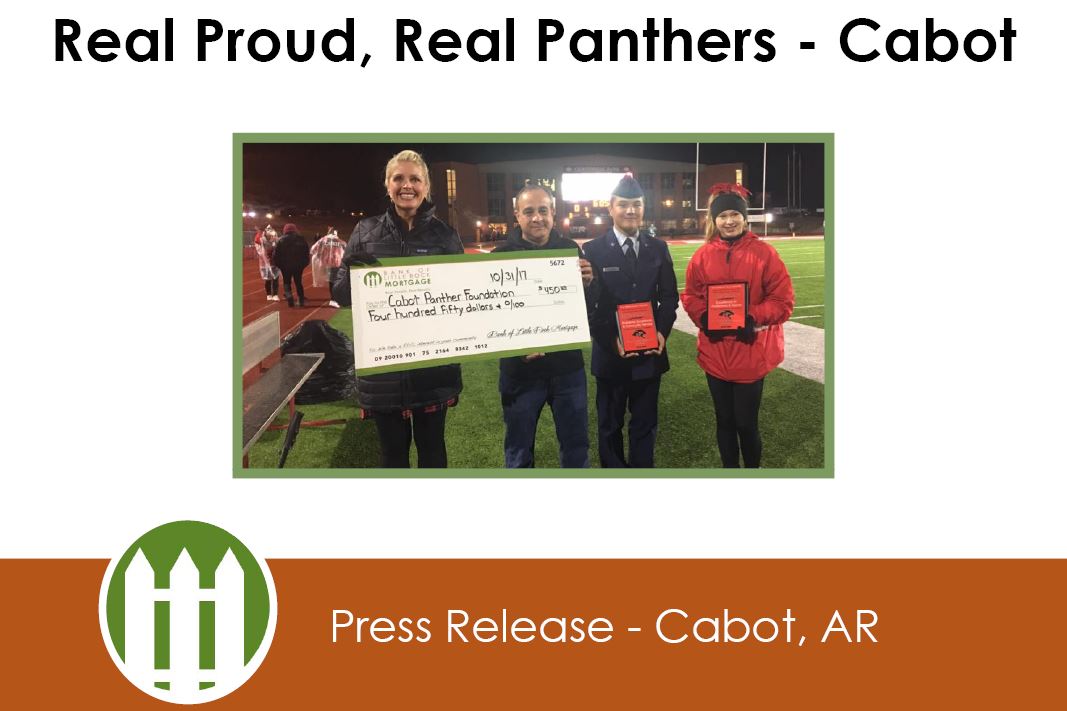 Photo Caption (from left to right): Sarah Owen representing the Cabot Panther Foundation, Steve Jackson representing Bank of Little Rock Mortgage along with students Jaiden Allgood and Riley Strube. Not pictured is Sylvie Armstrong.

Real Proud Recognizes Three Cabot Students
Three Cabot High School 9th graders were recognized by Bank of Little Rock Mortgage on Tuesday, October 31st, during Cabot Freshman Academy's football game. The students were honored as a part of the Real Proud of Real Panthers program, sponsored by Bank of Little Rock Mortgage.
The program recognizes students for their achievements in and out of the classroom. The students honored were Sylvie Armstrong, Riley Strube and Jaiden Allgood.
Sylvie Armstrong is a member of Art Club and National Junior Honor Society. In the 2015-16 school year, she was a Downey Publishing Group Cover winner. She currently takes PreAP English, Science and Social Studies. Sylvie volunteers at the Historic Arkansas Museum and at the Marion Animal Shelter. After high school, she plans to attend Lyon College. Sylvie is the daughter of proud parents Amy and Edward Armstrong.
Riley Strube is a member of the Spanish Club, National Junior Honor Society and Student Council. She takes PreAP Science, English and History. Riley is captain of the Cabot South Dance Team and received the Prudential Spirit of the Community Award. After high school, Riley plans to attend Clemson University in hopes of becoming a neurologist. Riley is the daughter of proud parents Andrea and Dustin Strube.
Jaiden Allgood is a first-year US Naval Sea Cadet at Freshmen Academy with interest in joining the military after high school. He is a member of JROTC Honor Guard and Color Guard. Jaiden volunteers at Thunder Across the River, the Little Rock Food Bank and went on a mission trip with the Arkansas Baptist Home for Children. Jaiden is the son of proud parents Shawn and Jasmine Allgood.
Sarah Owen of the Cabot Panther Foundation accepted a $450 contribution from Bank of Little Rock Mortgage Branch Manager Steve Jackson, which is part of the $2,700 Bank of Little Rock Mortgage will donate to the foundation during this school year.