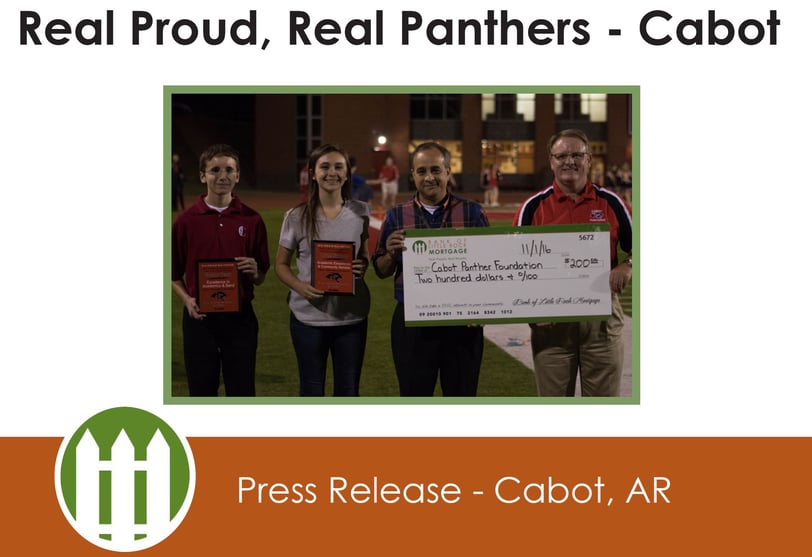 Photo Caption (from left to right): Cabot Freshman Academy students Ethan Peck and Lyra Gibson accept plaques from Steve Jackson with Bank of Little Rock Mortgage while Joey York with the Cabot Panther Foundation accepts a $200 check in the students' honor.
Real Proud Recognizes Two Cabot Students
Two Cabot Freshman Academy students were recognized on Tuesday, November 1 during the school's football game as a part of the Real Proud of Real Panthers program, sponsored by Bank of Little Rock Mortgage. The program recognizes hard-working students who are actively involved in their community and extracurricular activities. The students honored were Lyra Gibson and Ethan Peck, both freshmen.
Lyra Gibson is a freshman at Cabot Freshman Academy and was nominated by Tonya Whitworth. She is co-president of the J.U.S.T Club and a member of FCA, National Junior Honor Society and the basketball team. She volunteers with her school and church as well as at festivals, ceremonies, hospitals and city clean-ups. She maintains a 4.0 grade point and is the daughter of proud parents Kevin and Crystal Gibson.
Ethan Peck also is a freshman at Cabot Freshman Academy and was nominated by Erica Hann. He is a member of the CFA band, Quiz Bowl team, Student Leadership, German Club, swim team, the NJHS, Student Council and Key Club. Ethan received the President's Education Award, The A Team Award, the Positive Panther Award and the Outstanding Woodwind Musician Award. He also won the Harding Math Competition and he created the Technology Club at CJHN. Ethan made the first band at the All-Region Band Competition and also made first band, first chair at Arkansas Tech University's band camp. He volunteers with the Cabot Christmas Alliance, the Arkansas Cleanup, First Baptist Church and in food drives and fundraisers for the honor society. He maintains a 4.0 grade point and plans to study computer science at Carnegie Mellon University as an undergraduate then MIT for graduate school. He is the son of proud parents Jason and Amanda Peck.
During the presentation, Steve Jackson, manager of the Cabot branch of Bank of Little Rock Mortgage, presented each student with an award plaque. He also presented the Cabot Panther Foundation a check for $200 in the names of each student. During this school year, the Cabot branch of Bank of Little Rock Mortgage will contribute $100 for each student honored, culminating in $1,200 this year, to the Cabot Panther Foundation to help provide scholarships for students in the Cabot school district.