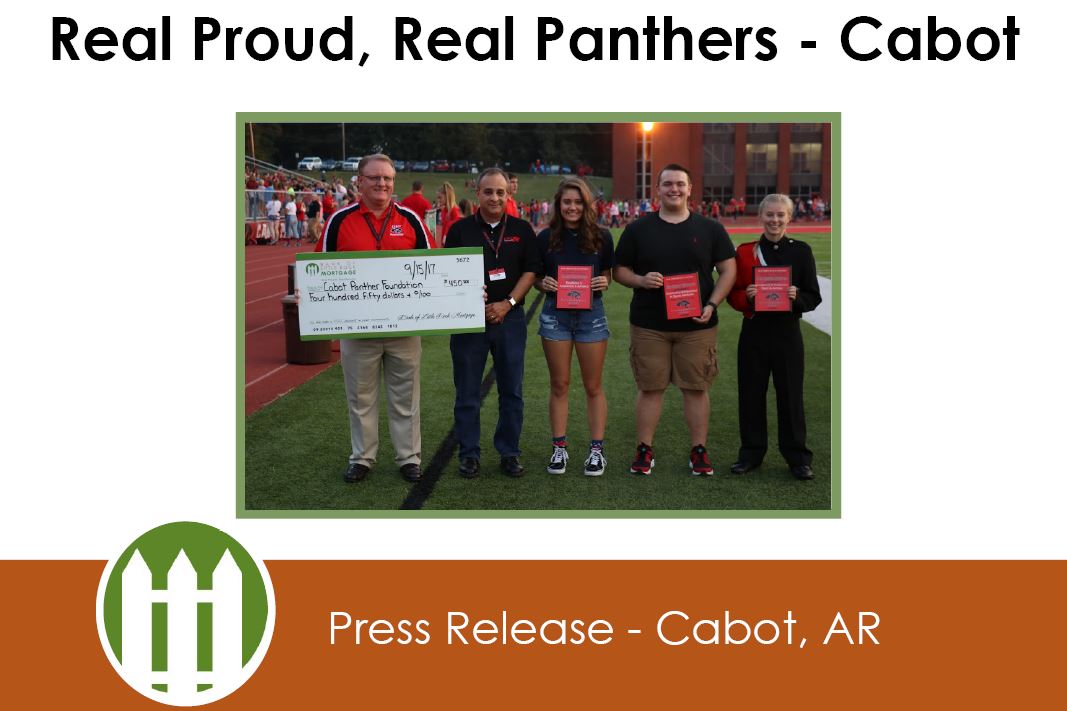 Photo Caption (from left to right): Joey York, on behalf of the Cabot Panther Foundation, Bank of Little Rock Mortgage Branch Manager Steve Jackson, and students Aley Mayden, Bryson Woods and Madison Meyer

Real Proud Recognizes Three Cabot Students
Three Cabot High School students were recognized by Bank of Little Rock Mortgage on Friday, September 15th, during Cabot's varsity football game against J. A. Fair High School. The students were honored as a part of the Real Proud of Real Panthers program, sponsored by Bank of Little Rock Mortgage. The program recognizes students for their achievements in an out of the classroom.The students honored were Aley Mayden, Bryson Woods and Madison Meyer.
Aley Mayden is an outstanding student with a 3.65 GPA. She is part of the Medical Academy and is on track to graduate with honors. Aley is a member of the National Honor Society and has over 60 hours of community service. After high school, Aley plans to attend the University of Arkansas in Fayetteville and major in pre-med. Aley is the daughter of proud parents Corrina Watts and Josh Mayden.
Bryson Woods won first place at the 2017 Arkansas Health Occupations Students of America competition and is in the Sports Medicine Club. Bryson is involved in Skills USA, the Key Club and the Hello Club. He is also a volunteer at Grace Community Church, distributing food and meals. After graduation Bryson plans to attend ASU-Beebe. Bryson is the son of proud parent Shannon Woods.
Madison Meyer is an exceptional student with a 4.0 GPA and she has taken every available Pre-Advanced Placement class. She is actively involved in band and archery, where she has received regional and national recognition in both. Madison volunteers at the Ward Animal Shelter and at the Food Pantry at the Cabot Church of Christ. After graduation, she plans to attend Harding University. Madison is the daughter of proud parents Geoff and Jill Meyer.
Joey York, from the Cabot Panther Foundation, accepted a $450 contribution from Bank of Little Rock Mortgage Branch Manager Steve Jackson. The donation is part of the $2,700 Bank of Little Rock Mortgage will donate to the foundation during this school year.