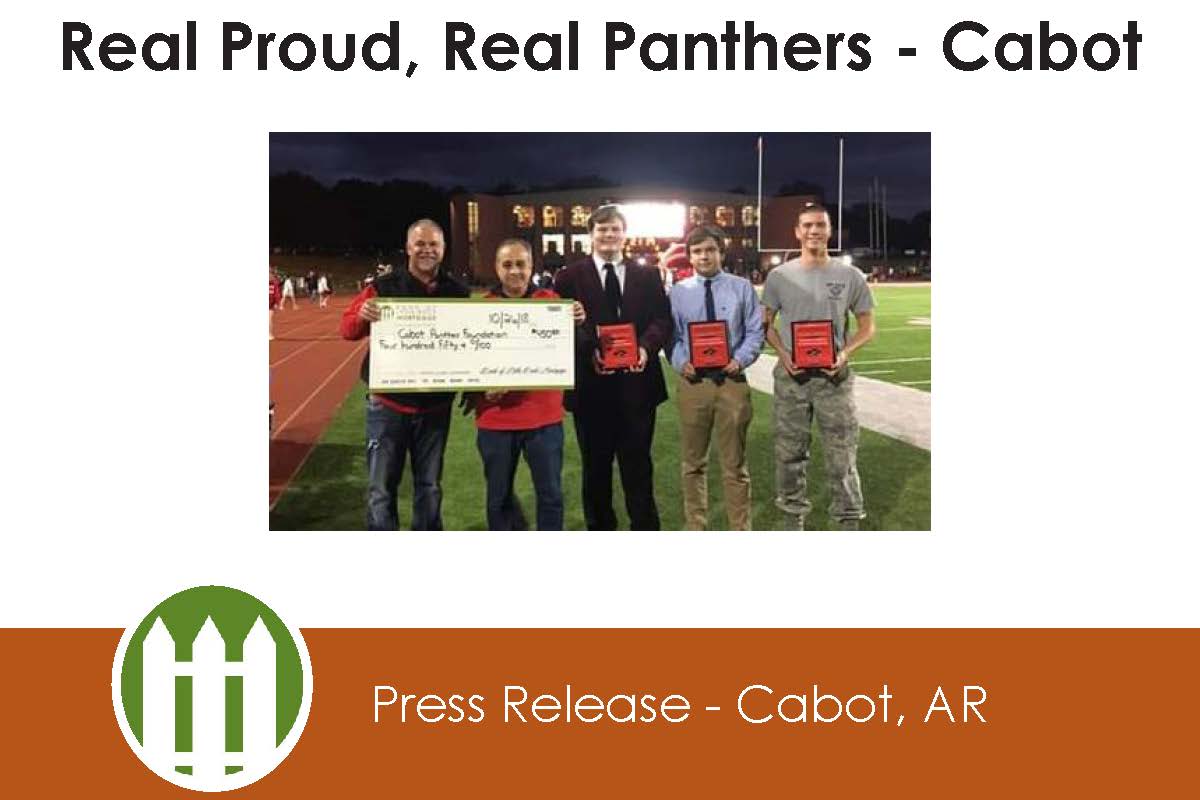 Photo Caption (from left to right): (10/26/2018 Photo) Dr. Brent Larsen representing The Cabot Panther Foundation, Steve Jackson representing Bank of Little Rock Mortgage and students Lawson Hudson, Turner Ward & Caleb Lester.


Real Proud Recognizes Three Cabot Students

Three Cabot students were recognized by Bank of Little Rock Mortgage on Friday,
October 26th, during the Cabot High School football game. The students were honored as a part of the Real Proud of Real Panthers program, sponsored by Bank of Little Rock Mortgage.

The program recognizes students for their achievements in and out of the classroom. The
students honored were Turner Ward, Lawson Hudson and Caleb Lester.

Turner Ward has a 3.9 GPA and is a sound engineer and student director for the theater
department. Turner is the voice of the plant in Little Shop of Horrors and Judge Hathorne in The Crucible in the theater's productions. He was a finalist in debate tournaments in Public Forum and Student Congress Debate and received the Attitude Plus Award. After graduation, Turner plans to attend the University of Arkansas in Little Rock and Major in System Engineering or Electrical Engineering and Minor in Musical Theater Education. Turner is the son of proud parents Mark and Holly Ward.

Lawson Hudson has a 3.6 GPA and scored a 35 on the ACT. He is an AP scholar, Debate Captain and received several first-place speaker awards in overall policy debate. He is
a member of National Forensics League Honor Society. Lawson is part of the Renew
Community Church youth group and has volunteered at Cabot Clean Up and participated in a drive for ALS. After graduation, Lawson plans to attend college at either Vanderbilt, Baylor or the University of Arkansas. Lawson is the son of proud parents Rebecca and Todd Hudson.

Caleb Lester has a 4.1 GPA and has received the Presidential Fitness Award and the
Sons of American Revolution Award. He is a Group Superintendent in Junior Reserve Officer Training Corp and a member of Mu Alpha Theta, National Technical Honor Society and Junior Civitan. Caleb was a Point of Contact for the Golden Knights visit to the school and served meals to veterans during Thunder Across the River. After graduation, he plans to attend the Naval Academy and Major in Mechanical Engineering. Caleb is the son of proud parent Laura Rothfeldt.


Dr. Brent Larsen with the Cabot Panther Foundation accepted a $450 contribution,
which is part of the $2,700 Bank of Little Rock Mortgage will donate to the foundation during this school year.