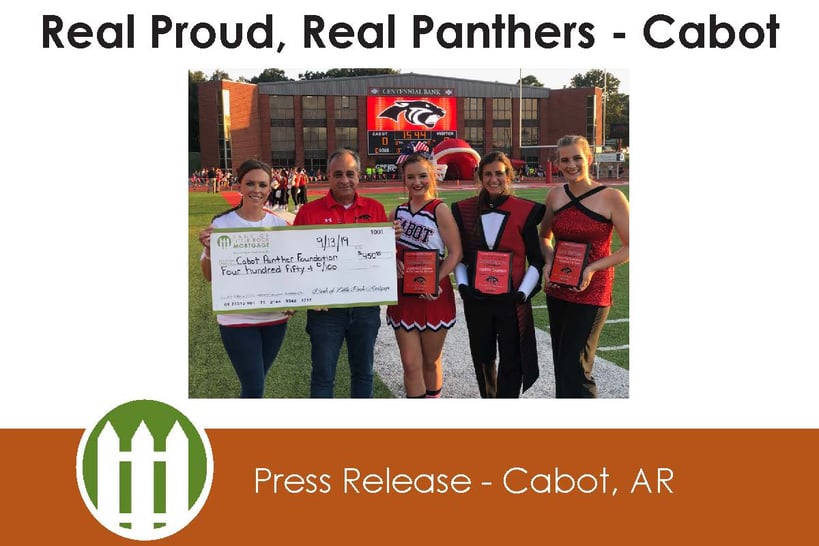 Photo Caption (from left to right): (9/13/2019 Photo) KC Rose representing the Cabot Panther Foundation, Steve Jackson representing Bank of Little Rock Mortgage and students Charlize Griffin, Karessa De La Paz and Lora Butcher.


Real Proud Recognizes Three Cabot Students

Three Cabot students were recognized by Bank of Little Rock Mortgage on Friday,
September 13th, during the Cabot High School football game. The students were honored as a part of the Real Proud of Real Panthers program, sponsored by Bank of Little Rock Mortgage. The program recognizes students for their achievements in and out of the classroom. The students honored were Karessa De La Paz, Lora Butcher and Charlize Griffin.

Karessa De La Paz has a 4.23 GPA and is a member of All region Band, Science
National Honors Society, Mu Alpha Theta, National Honors Society, Ecology Club, Spanish
Club and is the Saxophone Section Leader. She was a representative at Arkansas Girls State
and teaches in her church group. Her teacher describes her as humble, diligent, determined, positive, encouraging and motivating. After high school, Karessa plans to attend college and major in Biology with an Environmental Science Degree. She is the daughter of Lori and Conrad De La Paz.

Lora Butcher has a 3.88 GPA and is an All-State Band member. She received first
division solo and ensemble in state. She is a member of the Cabot High Band, Color Guard,
White Guard, Key Club, Mu Alpha Theta and National Honors Society. Her teacher says she
always wants to do her best and is determined to overcome any roadblocks in life. Lora
volunteers as a tutor at the Cabot Public Library. After high school, she plans to attend college and major in Music Education or Music Therapy. Lora is the daughter of Charlotte and Kevin Butcher.

Charlize Griffin has a 3.8 GPA and is the current reigning USA National Miss Arkansas
Junior Teen and Junior Miss Cabot North. She is founder of LIVE (Life Versus Ending it)
Project, a non-profit bringing awareness to ten suicide and mental health. She is the
representative for The Crown Cares, an anti-bullying organization focused on creating a
respectful environment in schools. She is a Cabot High Cheerleader, and a member of the
National Honors Society. After high school she plans to attend Full Sail University in Winter
Park, Florida and majoring in Audio Engineering. Charlize is the daughter of proud mom Candy Griffin.


Kc Rose with the Cabot Panther Foundation accepted a $450 contribution, which is part
of the $2,700 Bank of Little Rock Mortgage will donate to the foundation during this school year.