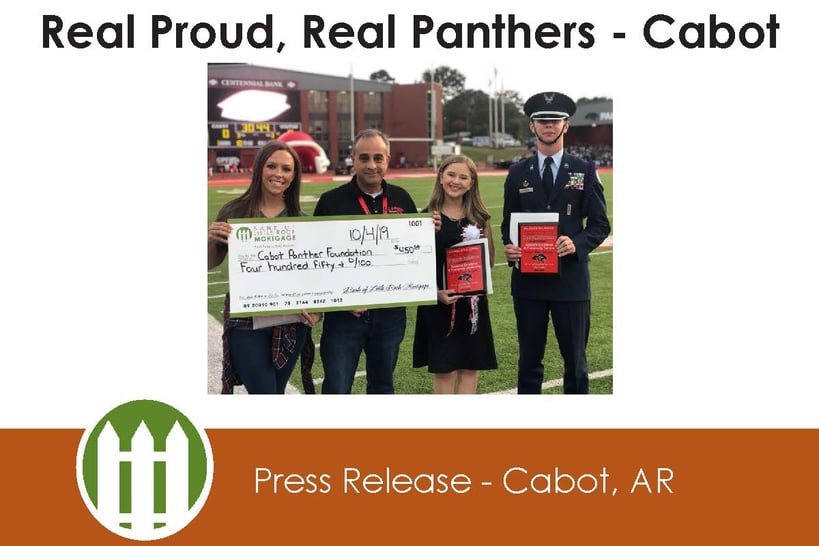 Photo Caption (from left to right): (10/4/2019 Photo) KC Rose representing the Cabot Panther Foundation, Steve Jackson representing Bank of Little Rock Mortgage and students Maddie Johnson & Christian Pittman. Not pictured is Hannah Stewart.


Real Proud Recognizes Three Cabot Students

Three Cabot students were recognized by Bank of Little Rock Mortgage on Friday, October 4th, during the Cabot High School football game. The students were honored as a part of the Real Proud of Real Panthers program, sponsored by Bank of Little Rock Mortgage. The program recognizes students for their achievements in and out of the classroom. The students honored were Hannah Stewart, Christian Pittman and Maddie Johnson.

Hannah has a 3.77 GPA and is a member of National Honor Society, the Cabot High Leadership Team, Theatre and a member of her church's worship team. Her teacher describes her as an active and exemplary role model to at risk students within the school. She volunteers at Cabot Clean Up and is a part of Monthly Big Serve at her church. After high school she plans to attend the University of Central Arkansas or Arkansas State University and major in Psychology. She is the daughter of proud parents Jeff and Susan Stewart.

Christian has a 4.02 GPA and is a Cadet Major, Honor Guard and Color Guard in the Air Force JROTC. He is a member of numerous clubs including National Honor National and RHO Kappa Social Studies Honor Society. He has volunteered at Cabot Clean Up, Thunder Across the River, the OPC Banquet and Shelter Banquet and has participated in more than 20 Color Guard Presentations. After high school, he hopes to attend the United States Air Force Academy and major in Business Management or Civil Engineering. Christian is the son of proud parents Chris and Caroline Pittman.

Maddie has a GPA of 4.1739 and earned a perfect score on her ACT. She has been a Girl Scout for eleven years and was awarded the Gold Award, the highest honor a Girl Scout can achieve for her project, "An Art Display to Make the Day." Maddie is a member of numerous student clubs including National Honor Society and Senator John Boozman's Congressional Youth Cabinet. After high school, Maddie plans to attend the University in Alabama and pursue a career as a Child Advocate Attorney. Maddie is the daughter of proud parents Chris and Charlotte Johnson.


Kc Rose with the Cabot Panther Foundation accepted a $450 contribution, which is part
of the $2,700 Bank of Little Rock Mortgage will donate to the foundation during this school year.