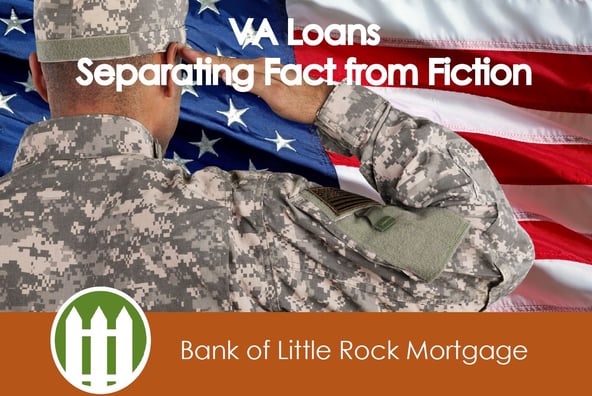 VA Loans are the excellent way for Veterans to purchase a home or refinance an existing one. Unfortunately, there are some misconceptions about the VA loan process. VA loans do not have to be difficult to understand.
Myth #1: Veterans only have one chance to use their VA home loan benefit.
FACT: Veterans can use their benefit multiple times throughout their life. Guidelines may apply; however, there is actually no limit.

Myth #2: You can only have one VA loan at a time.
FACT: Not true! If you used your VA benefits to purchase a home that is now being rented and you did not use all of your eligibility, you can apply the remainder to a second VA home loan.

Myth #3: VA loans can only be used to buy a house.
FACT: VA loans can be used to refinance, too-up to 100% of the home's value in some cases.

Myth #4: VA loans are small and only ideal for starter homes.
FACT: VA loans are widely available up to $1,000,000.

Myth #5: VA loans take too long to process and close.
FACT: Most VA loans don't take any longer to close than a conventional or FHA loan. In addition, funding fees are waived if the Veteran has a disability rating of 10% or more.

Myth #8: Vets have to be discharged or retired to use their VA loan benefit.
FACT: Active service members get full access to the VA mortgage benefit, too! (After 181 days continuous service or 90 days during Gulf War period for active duty personnel.)
Myth #9: Members of the Reserves or National Guard are not eligible.
FACT: Members of the Reserves or National Guard are eligible after 6 years of honorable service.

Myth #10: Vets who are serving away from home or overseas can't get a loan until they can return to occupy the property.
FACT: Military men and women who are away on active duty can obtain a VA loan if they intend to return home within a year or have a spouse who will occupy the property in the interim.

Myth #11: Widows or Widowers of Vets are not eligible for the VA loan benefit.
FACT: Surviving spouses of fallen veterans who died on active duty or as a result of a service-connected disability may be eligible for a VA loan. The key is working with a lender who knows the process.

Myth #12: I have to have my VA Certificate of Eligibility in hand before I can look for a house or apply for a loan.
FACT: Don't let the lack of your certificate stand in the way of applying for a home loan or looking for a new home. Lenders can request your certificate through an automated system if you do not have your certificate yet.

Myth #13: VA home loan appraisals and inspections are tougher than those for conventional or FHA financing.
FACT: VA does not appraise or inspect your home. Your lender contracts with a VA­ approved appraiser who will review the property to determine a value for the home. This is not a home inspection. If you would like an inspection of the home, contact a licensed home inspector.
source: MediaCenter